Despite the fact I've got boxes to unpack and dishes to do and blah, blah, yadda, yadda... Whatever. Soapmaking is MUCH more enjoyable, and who knows how much time I'll have once the baby shows up, right? One of the batches I needed to restock was Patchouli, and I've been determined for a while to try seeing how funky a swirl I could do with it. Well, today was that day, despite the frozen aloe vera juice and the fact my scale died right as I was finishing measuring my first oil. I wasn't set up well enough for video, but I took pictures along the way.
First, here's my AV juice/lye mixture (in the small container) and my melted, mixed oils in the bucket.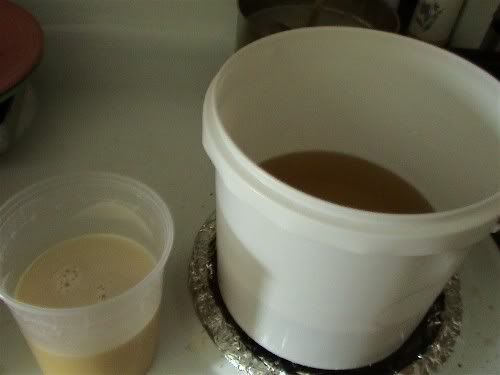 Next, I got my colorants ready. There are both UMs and oxides here, 7 colors total, which made this my most ambitious swirling project to date.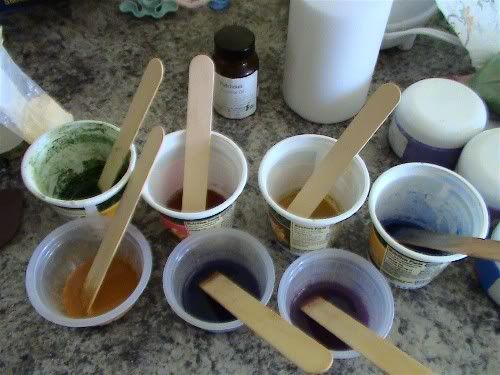 I mixed my soap and went ahead and added my Patchouli EO, since so much of this batch ended up colored. FYI, patch EO won't accelerate trace; it's a beautifully behaving scent. I poured 4 ounces of raw soap into each color and mixed. You'll also notice my mould is ready to go.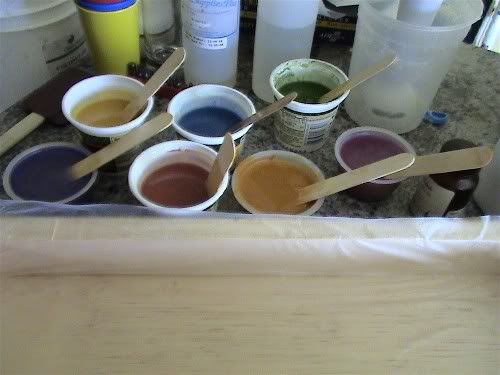 Next, I pour my swirling colors in the bottom of the mould in random patterns. This helps give the bottom of the soap some color.
After that, I poured my uncolored raw soap into the mould, then started adding my second layer of colors. By pouring higher above the mould - farther away from the soap, I force some of the colors down into the soap.
Continued...